The rosewood display cabinet in my room is currently 60% filled with watch-related stuff. I have magazines, watch catalogs, souvenirs, watch boxes and stacked watch trays.
I bought these Cartier-like watch display trays to keep my ladies watches and some "pending sale" items. It took me some effort to convince an old watchmaker to part with some of his own.
This is an Ermenegildo Zegna silk tie made for Patek Philppe for 2007.
This is a NOS Rolex organiser in the classic green Rolex leather.
This is a souvenir from the OMEGA Speedmaster 50th Anniversary launch party. I don't own an Omega yet, but the first on my list will be the Speedy Pro (the original Moonwatch).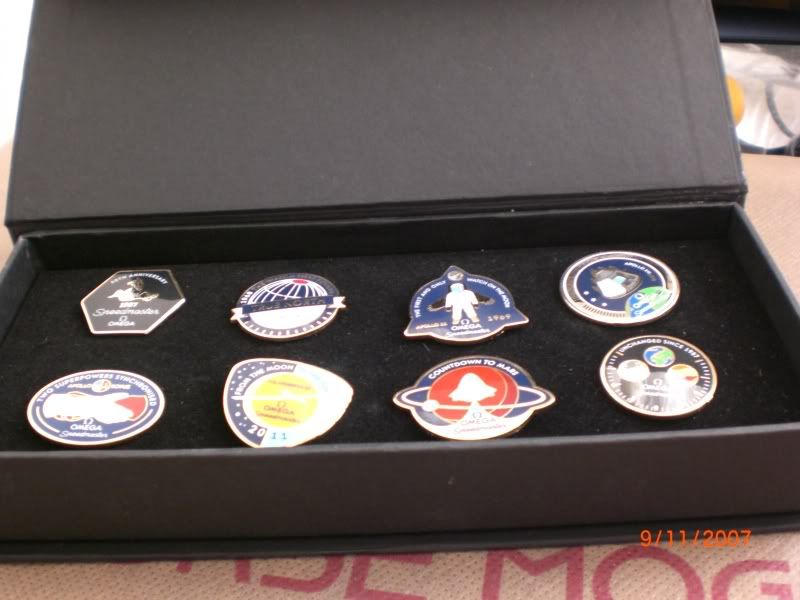 Another holy grail on my wish list is the ROLEX Sea Dweller. I find her to be a rugged tool watch. Well, I don't dive but I do appreciate the Sea Dweller as this is a watch design that has lasted through the decades (as seen in Revolution - The Evolution of the Rolex Sport Watch).
I recently had a mega sale of my used watch boxes. This exercise was to raise funds for the purchase of another make of watch boxes. Before the new batch arrived, my clothes drawer became my watch drawer. Take a look at the MESS, an organized mess I mean.
Now that you have seen the mess and I have sorted out most of my stuff, I will begin to slowly introduce my humble collection of timepieces in the next few posts. Stay tuned for more!